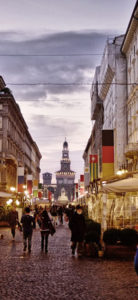 HomeLoversrealized that not everyone who is looking for a home needs to use it for an extended period of time. For this reason it decided to specialize in the fulfillment of requests for short term rentals in Milan, to ensure a good service to anyone who happens to be in town but does not have to settle on a permanent basis. Indeed, an ever-increasing number of people, cyclically, find themselves having to find accommodation for business or leisure travels, and do not really know where to turn.
HomeLovers was born for this, and offers a punctual and precise service, supervised by a team of professionals who know the city and the features of each individual apartment made available.
The range of properties offered by HomeLovers covers all price ranges and the most important areas of the city, and gives to customers flats which are furnished, equipped with appliances and broadband connection, as well as a useful welcome kit. Providing rentals for short periods in Milan at a great quality-price ratio, the site is certainly the fastest solution for anyone who is going to get into town and have not yet found an accommodation, or has no time to search for it.